Personal Training
Brisbane
Expert Personal Training in Brisbane
At Functional For Life, we believe personal training should be just that – personal. That's why we're passionate about delivering our evidence-based, tailored and fully mobile personal training in Brisbane, and surrounding suburbs. 
Our experienced trainers come to the location of your choice with all of the equipment and expertise required to help you achieve your specific goals. Enquire today about our free no obligation trial and find out exactly how we can help you enhance your health, fitness and overall day to day movement!
Choose Functional For Life for Personal Training in Brisbane
Choose Functional For Life for a personal training experience that goes beyond the ordinary. Our Brisbane-based team focuses on delivering quality training tailored to your individual needs. We understand the challenges of committing to regular exercise and offer a fully mobile service to overcome these barriers. Whether at home, in a local park, or amidst Brisbane's beautiful outdoor settings, our trainers are ready to meet you where you are, bringing the expertise and equipment needed for a personalised fitness journey.

What to Expect from Personal Training in Brisbane
Functional For Life personal training sessions in Brisbane are tailored to meet your specific fitness goals. Expect a session that's not just about exercise, but enhancing your overall health and movement. Brisbane's pleasant weather and beautiful outdoor spaces provide the perfect backdrop for our sessions, whether it's a sunny day at the park or your own backyard. Our trainers make the most of these environments, ensuring your workout is as enjoyable as it is effective.
Get In Touch Today For A Free Trial Of Mobile Personal Training In Brisbane
Ready to start your fitness journey with us in Brisbane? Functional For Life offers a complimentary trial session of our mobile personal training services. Experience our bespoke approach to fitness at your convenience. 
 Your 60-minute free trial includes: 
Fitness goal setting with an experienced trainer 
Movement screening to assess mobility 
Self-massage techniques for proper recovery
Fitness testing 
Functional training session tailored to your needs
Contact us here to book your free trial and take the first step towards achieving your fitness goals in the comfort of your preferred location.
One to one personal training is the fastest and most effective way to achieve your desired health goals.
Small group training is a great way to keep motivated and social whilst still achieving your health goals.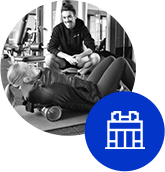 Corporate group training is a great way to build rapport between colleagues whilst improving employee well-being and productivity.
Experience at home the best virtual classes on your fingertips and achieve all your health goals.
Mobile Personal Training Brisbane FAQs:
I have been training with Cathal for 2 months now. It... read moreI have been training with Cathal for 2 months now. It is just amazing how wonderful I feel. We all have days when we are not motivated, right? In the past I would just give up on those days, stay in bed and eat chocolate. Nowadays I have Cathal knocking on my door, and gently pushing me to do my best, and it works, and I end up feeling so much better. I found Cathal to be very professional, highly skilled and very gentle yet effective in his approach. In 2 months I feel so much stronger, I lost 1 dress size and have much better posture. And most importantly, I don't feel exhausted or burnt out like I used to with other training. Definitely functional for life are the best. I highly recommend you give these guys a try. read less

Hadeel

Cameron Neale is an excellent personal trainer who understood my needs... read moreCameron Neale is an excellent personal trainer who understood my needs and goals perfectly from the first session. He is very knowlegeable and committed to achieving results by tailoring each session. He knows when to push harder and when to give encouragement. This makes the sessions appropriately challenging while at the same time rewarding and enjoyable. I highly recommend Functional for Life, whatever your stage of fitness. read less

Patricia

I have been training with Ben for the last 3 months... read moreI have been training with Ben for the last 3 months and it has been excellent. Ben is very knowledgeable, he has worked with my injuries and I am so much stronger now than I was when I started. Ben has been very approachable, flexible with training hours and has accommodated my erratic work schedule. Ben has been excellent in keeping the energy levels high through the sessions and keeping me motivated at all times. The sessions have been a lot of fun and I look forward to continuing this journey through the year. I would highly recommend Functional for Life and Ben in Adelaide read less

Preethi

Cameron is a very professional personal fitness trainer. He tailors the... read moreCameron is a very professional personal fitness trainer. He tailors the exercises specifically for his clients needs and takes any injuries you may have into account. He is very punctual and reliable. Cameron makes you feel relaxed and has a good nature. I would recommend Cameron to anyone. He presents the classes in a very interesting way that keeps it fun! read less

Olgney

Aimee is an amazing PT. As someone that previously never enjoyed... read moreAimee is an amazing PT. As someone that previously never enjoyed working out, I am now motivated and looking forward to our sessions. She has helped me not just in working towards achieving my fittness goals, but also in feeling a lot more confident. read less

kiyan

Been training with Jack for a few weeks now, and was... read moreBeen training with Jack for a few weeks now, and was with Marlie beforehand for about 4 months.Both trainers are exceptional - they are attentive, and genuinely interested in helping you define your goals and work towards smashing them.I come away from each session looking forward to the next (and that's not something I've ever said about exercise before!). Jack makes our sessions fun, engaging and interesting - he can explain why we're doing certain exercises and the benefits of them too which is ideal for me.Can't wait to continue on my journey with Jack & the Functional For Life team! Wish I joined up sooner! read less

Nathan

Landi has special needs and has been training with Jack for... read moreLandi has special needs and has been training with Jack for 9 months now and he's been amazing with her.Jack is genuinely invested in helping her to succeed and has gone above and beyond with tailoring a program specifically for Landi and has guided her in how to eat healthier.Landi has thoroughly enjoyed her sessions with Jack.Linda & Landi read less

Linda

Been training with Jack for a few weeks now, and was... read moreBeen training with Jack for a few weeks now, and was with Marlie beforehand for about 4 months.Both trainers are exceptional - they are attentive, and genuinely interested in helping you define your goals and work towards smashing them.I come away from each session looking forward to the next (and that's not something I've ever said about exercise before!). Jack makes our sessions fun, engaging and interesting - he can explain why we're doing certain exercises and the benefits of them too which is ideal for me.Can't wait to continue on my journey with Jack & the Functional For Life team! Wish I joined up sooner! read less

Nathan

From the enrolment period with Damian to meeting my trainer jack... read moreFrom the enrolment period with Damian to meeting my trainer jack was great! I was still in lockdown and Jack was the most amazing support as I had to basically start from the beginning again. Jack is such a good trainer and a wonderful person. I enjoyed every minute of our time together , we had great workouts and conversations and am so grateful these guys came along during a difficult time!! Thankyou Jack you are amazing ???????? read less

JULIE

I've been training at functional for life for about 4 months... read moreI've been training at functional for life for about 4 months now with Jack who is an exceptional PT.Jack tailors your sessions to align with your goals, makes them challenging, and is genuinely invested in helping you succeed. Ie - those weekend text check-ins to see how your diet is going.So far I've lost over 10kg and I couldn't have done it without him helping me keep on track, stay motivated, and making fitness fun.Easy to recommend with 5 stars! read less

Darren

Emily Watts has been a life saver for me during this... read moreEmily Watts has been a life saver for me during this lockdown.. like many it's been hard on mental and physical health and it's been difficult to get out of an evil circle of bad habits.. so glad I started PT training as it's made me focus and get out and move again. Emily has been great and really noticed how low I was at the start and tailored my training sessions based on a good induction , fining out everything about me, my fitness levels and my goals. As it's been hard to self motivate I really needed having someone to push me, is the only way I've managed to get fitter and healthier again. I really appreciate the flexibility Emily has given me and it's a bonus to be able to train close to home. We both are able to work around our schedules really well and I look forward to seeing more positive results as it's heading in the right direction so quickly! Really can't recommend Emily and functional for life PT group enough. Great training with you. Deqa read less

Deqa

Our company booked our team in for several 1:1 sessions to... read moreOur company booked our team in for several 1:1 sessions to help us prepare physically and mentally to come out of lockdown in Sydney and Melbourne. My trainer, Marlie was fabulous in guiding me with the right exercises in our sessions and designing my own program for me to do on my own. I have found her so knowledgeable and helpful i have continued with further sessions. read less

Nikki

From the beginning these guys have been great, as soon as... read moreFrom the beginning these guys have been great, as soon as I made an enquiry on the website I received a call from Damian and I had a scheduled session booked in for the next day.Jack was my allocated trainer. Suffice it to say, after our first session, any reservations I had about 1-1 training flew straight out the door. Jack was very approachable, flexible with training hours and knowledgeable. We worked out my goals, and set realistic targets. I've really noticed my fitness level has increased and I'm well on my way to my goal weight. I'd recommend Jack and the Functional for Life team to anyone wanting a PT in Sydney. read less

Lucy

Jack makes my personal training enjoyable yet focused , I look... read moreJack makes my personal training enjoyable yet focused , I look forward to going , and (despite the pain !) I feel better for doing itIt's accessible, focused and targeted training , done comfortably and friendly read less

Meg

Damian's extremely professional, thorough and accommodating. It's obvious he has... read moreDamian's extremely professional, thorough and accommodating. It's obvious he has a lot of experience and expertise and I feel so much fitter and more confident since beginning training with him. read less

Annalise

I have enjoyed working with Damian very much. I was... read moreI have enjoyed working with Damian very much. I was concerned that I needed help getting back into fitness after many years of false starts. Damian has taken care to ensure that my work is focussed on strength and technique, with subtle but persistent encouragement as well to do my own exercise to ensure that I am successful. Definitely recommend. read less

Andrew

Damian is an incredibly valuable and insightful PT, his ability to... read moreDamian is an incredibly valuable and insightful PT, his ability to engage and connect with his clients really enables him to create a great atmosphere. Personally, I have learnt so much from him along the way and has always kept me motivated to continue progressing and achieving my goals.Thanks Damian! read less

Michael

Damien has been absolute pleasure to work with, he has great... read moreDamien has been absolute pleasure to work with, he has great knowledge about what works for his clients to achieve the best results and also helps them understand how body works to ensure no injuries happens while working out. I have tried few personal trainers but he is the only one I have been able to get best results. Absolutely recommend him to everyone! read less

Neha

I just wanted to share a quick note and let you... read moreI just wanted to share a quick note and let you know you're doing a really great job! I'm glad I decided to work with you. I've enjoyed every session I've had and feel like I've come a long way in a short time. Every session challenges me and I love the feeling! Thank you! read less

Brianna

Damian was a fantastic trainer through and through, built a workout... read moreDamian was a fantastic trainer through and through, built a workout based on my specific goals, was flexible and completely in line with health guidelines during the pandemic, and just generally an easy dude to have a chat during training with. Can not recommend highly enough! read less

Carlin

I cannot recommend Damian Boddy and the Functional for Life Team... read moreI cannot recommend Damian Boddy and the Functional for Life Team highly enough. I am doing 3 sessions per week via the Zoom App and I am getting so much out of the sessions. To be able to exercise in my Family Room at home is fantastic as I have never been a gym kind of person. Just over the past 2 weeks I feel like I have improved so much. Damian makes each session so enjoyable and so beneficial. I have a bad shoulder and Damian always changes the sets to suit me if it involves a lot of shoulder work.Thank you Damian and the Functional for Life Team - Well Done! read less

Simone

I started training with Damian over the past 4 weeks and... read moreI started training with Damian over the past 4 weeks and in a short space of time I have achieved some really great results in terms of fitness, building muscle and functional strength. I do 1 PT session a week and then attended his HIIT classes which has increased my fitness dramatically. Damian has a wealth of experience and is passionate about what he does. He has also helped me to relax and enjoy the training sessions. I would highly recommend him to anyone wishing to try his classes. read less

Grace

Highly recommend Functional for Life as a great fun & effective... read moreHighly recommend Functional for Life as a great fun & effective way to improve your fitness & strength for all stages of fitness / and or injury issues ????????????????Damian was very professional, friendly and focused, ThankYOU ???????????? read less

Kylie

Damo is awesome!He is excellent at adjusting your workouts to achieve... read moreDamo is awesome!He is excellent at adjusting your workouts to achieve your goals.. the British accent also seems to be helping the process, has been 3 weeks and am feeling much fitter. HIGHLY RECOMMEND 🙂 read less

Clare

I recently started regular PT sessions with Functional For Life to... read moreI recently started regular PT sessions with Functional For Life to try and get into good habits while I'm still relatively young and fit. I hadn't exercised regularly in five years thanks to shift work so my cardiovascular fitness and muscle strength were terrible. Damian tailored my program to my goals, injuries and current fitness level and I'm already seeing and feeling improvements after only a few sessions. They'll come to you and design your program around what you have available plus a couple of really affordable pieces of equipment (like $6 resistance bands from Kmart) They use an app to help you track your workouts and remind you of proper form on non PT days. Damian is a super lovely dude who'll have a laugh with you but also gently (but firmly) push you to improve. Highly recommend! read less

Caitlin

Damian is professional, reliable and client-centered. He expertly tailored my training... read moreDamian is professional, reliable and client-centered. He expertly tailored my training to meet my fitness goals, and also made our sessions interesting and fun. I really appreciated the way that he contextualized each exercise; his programs are thorough and contain great variety of activities. His knowledge of anatomy and physiology is excellent! Damian is an natural teacher, and his clear instructions allowed me to feel confident and inspired enough to continue my practice at home in between sessions. Excellent service! read less

Sarah